See the 2020 Landscape
Head to the most recent version of the AI Startup Landscape
Our motivation
Why we are building a startup landscape
Andrew Ng, one of the most renowned AI researchers, says that "AI is the new electricity." One can only imagine what impact AI will have on our daily lives ten years from now. As general purpose technology, AI has an unlimited number of applications – many of which have the potential to augment human capabilities, vastly improve the quality of products and services, make processes more efficient and environmentally friendly, and ultimately free us from many cumbersome tasks.
Currently, the US and China are leading in the adoption of AI, so it's no surprise that the majority of the 100 best AI startups in the world are American or Chinese (see CB Insights AI 100 list). Although Germany is one of the world's powerhouses of industry, with a particularly strong network of SMEs, it is underrepresented in the number of top AI startups. In 2018, not a single German AI startup made the cut, and in 2019 just one Berlin-based startup (Twenty Billion Neurons) made it to the AI 100 list.
This is alarming because startups reflect the innovative power of a country, and Germany has to do much more to avoid falling behind. As Alan Kay said, "The best way to predict the future is to invent it."
That is why appliedAI – with the help of our +40 partners from academia, government and industry – set out to create an ecosystem in which AI startups can flourish and help shape the future of AI for the benefit of society. We support German AI startups by helping to identify pilot customers, access data, find talent, and select hardware resources.
Together with our contributors, technology companies NVIDIA and Google, as well as eight leading Venture Capital companies (Digital+ Partners, Earlybird Capital, eCAPITAL, High-Tech Gründerfonds, HV Holtzbrinck Ventures, Lakestar, Speedinvest, and Unternehmertum Venture Capital Partners), we screened more than 1000 startups to find the best AI startups in Germany. The 214 AI startups that stood out are displayed in the landscape below.
Read the Handelsblatt article about the AI Startup Landscape here.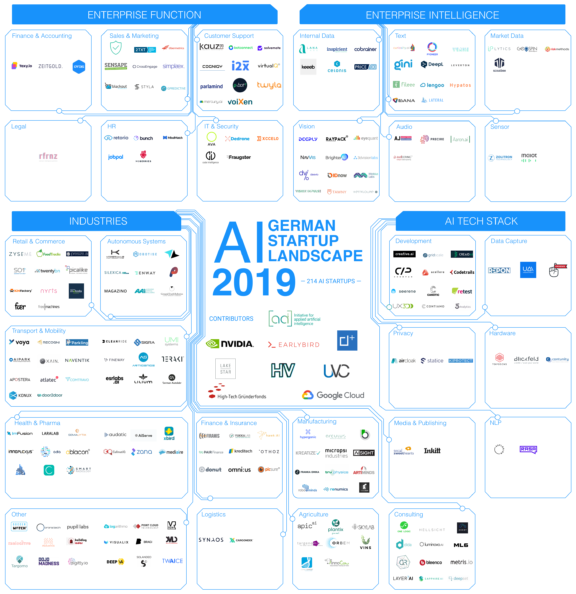 Methodology
How we build it
The AI startups included in the landscape are private companies founded after 2009, with headquarters or significant development activity in Germany. They have machine learning (ML) at their core or exhibit a significant usage of ML. The selection process can be summarized as follows:

The startups are gathered from different public (e.g. Crunchbase, LinkedIn) and private (VC network) sources to create an extensive longlist.
The startups are evaluated based on: data, talent, AI methods, scalability, overall quality and subsequently clustered (see clustering logic).
The startups are initially rated ('valid', 'upcoming', 'longlist', and 'discarded') by our AI Engineers and Strategists to create a shortlist.
The shortlist is independently evaluated and rated by our contributors (jury) (Digital+ Partners, Earlybird Capital, eCAPITAL, Google, High-Tech Gründerfonds, HV Holtzbrinck Ventures, Lakestar, NVIDIA, Speedinvest, and Unternehmertum Venture Capital Partners). The feedback is synthesized and the final result is visualized.
CLUSTERING LOGIC
The clustering logic is based on Shivon Zilis' landscape of machine intelligence. It is developed from the point-of-view of companies that want to use AI in their businesses:
Enterprise Functions: Increasing productivity of existing tasks – Support your employees with ready-to-use, AI-enabled tools supporting their day-to-day work to increase productivity.
Enterprise Intelligence: Exploiting new data sources – Tap into new insights that were previously too difficult or expensive to be gained through conventional methods.
AI Technology Stack: Building products with ML: Give developers the tools that they need to build and leverage machine learning software to gain a competitive advantage.
Industries: Leveraging AI-first products: Use and cooperate with startups using machine learning to offer industry-related products and services.
Metadata
Facts and figures
Location
The concentration of AI startups in Berlin and Munich is relatively high, while the rest of Germany remains very low. 40.2% (2018: 38.6%) of AI startups are Berlin-based. Munich has 26.6% (2018: 23.5%) of AI startups, followed by Karlsruhe with 4.2% (2018: 4,5%). Only cities with 2 or more startups are displayed.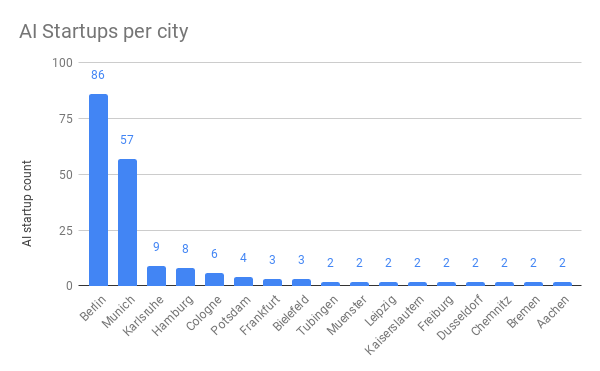 Funding
Since 2009, the AI startups displayed have collected $1.2 billion in total funding. Munich has 34% fewer AI startups than Berlin, but its startups collected 24% more funding (Munich $359m vs Berlin $290m). Average funding per startup in Munich is also almost twice (factor 1.8) the average in Berlin (Munich: $6.37m vs $3.41m). Hamburg (Kreditech: $437m total funding) is considered an outlier. Only cities with more than $1m total funding are displayed.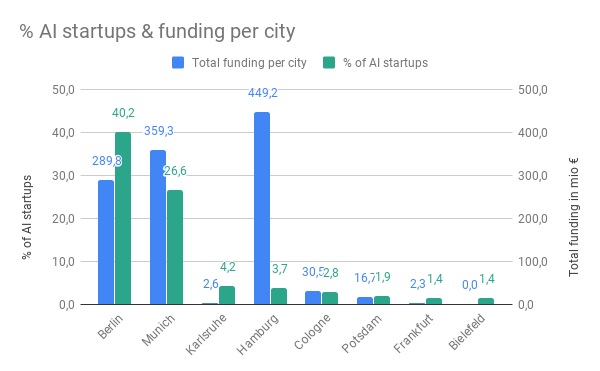 Sector
The majority of startups (44.9%) operate across industries (see clusters 'Enterprise Function', 'Enterprise Intelligence', and 'AI Technology Stack'). The three industry sectors with the most AI startups are: Transport & mobility (9.3%), healthcare & pharma (7.0%), and manufacturing (6.1%).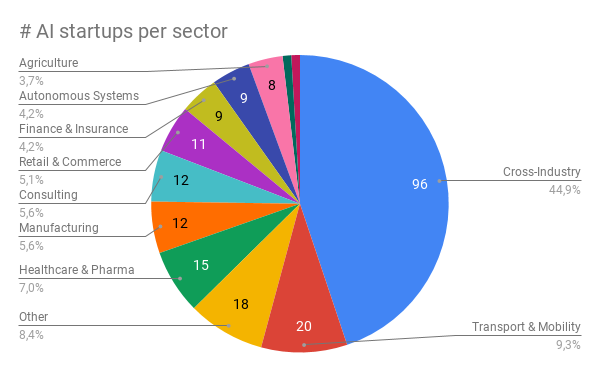 We believe that sharing this information is our obligation. Using this landscape as part of a presentation, talk, or project is allowed and encouraged as long as you always use the visual representation and reference us appropriately. Changes to our landscape have to be marked as your own changes. The content of this insight is published under CC-BY 4.0.