Ethical use of AI
Our motivation for this landscape
This article is intended to provide a quick introduction for anyone interested in the ethical debate about Artificial Intelligence (AI) and to facilitate further research. It gives a broad overview of the status quo of the application-oriented debate about "responsible" or "ethical" use of AI for the end of 2018. We shed some light on the major international AI ethics practices and the dominating actors in public debates as well as their measures or principles that are being developed and implemented.
We don't take a stand on what the "right" or "wrong" approach is but give you the data to build your own conclusion. Please note that at the end of 2018 this topic is just picking up speed and we did not update it since then, so it does not include e.g. the EU's 2019 whitepaper.
The role of ethics
The discussion about the social consequences of artificial intelligence (AI) is often characterized by two extreme positions: An overwhelmingly negative view, that foresees the potentially complete annihilation of humanity, and an optimistic / enthusiast one that argues we are nearing our entry into a fully digital smart paradise. The direction our society will take is based on debate and reasoning. Ethical discussions are necessary in order to develop alternatives for society as a whole, which are desirable for everyone. The role of ethics is to guide what we "should" do based on societal consent. Technology allows us to shape those alternatives.

To this day, a number of actors have already published guidelines, principles, and frameworks to guide the ethical and responsible use of AI. To get a comprehensive overview of the current approaches, we have gathered and analyzed the ethical declarations and guidelines from a large variety of groups and actors. Our overview considers:
Large State Actors: The US, China, and the EU
Nations and State Actors: Denmark, Italy, France, Sweden, Finnland, United Kingdom, Netherlands, Austria, and Germany
Non-State Actors: Future of Life Institute, FAT / ML, Ethics in Artificial Intelligence, Open AI, Partnership on AI, AI4ALL, Ethics and Governance in Artificial Intelligence, AI Ethics Lab and Stephen A. Schwarzman College of Computing
Technology Companies: Google, Amazon, Facebook, Apple, and Microsoft.
Stakeholder-agnostic principles: Ethically Aligned Design, Asilomar Principles, Toronto Declaration, and Montreal Declaration are also briefly explained.
Other Declarations: Ethically Aligned Design, Toronto Declaration, and the Montreal Declaration
Leading up to this landscape was a series of noteworthy publications that motivated us to give an overview of the current status. Namely:
(06/2014) China announces a national social credit system for the valuation of individuals and government institutions.
(06/2015) The Google "Photos" app identifies African-American people as gorillas due to inadequate AI training.
(12/2015) Cambridge Analytica uses 50 million records from Facebook users to influence their political opinion in numerous election campaigns through targeted Facebook posts
(05/2016) In Florida, the first human being dies in an autonomously driving car. At a crossroads, his Tesla could not distinguish a white truck from the open sky and accelerated just before the impact.
(03/2018)The UN accuses Facebook of promoting violent riots in Myanmar by spreading Hate Speech.
(06/2018) Amazon shareholders ask Jeff Bezos in an open letter not to provide his "Recognition" software for prosecution.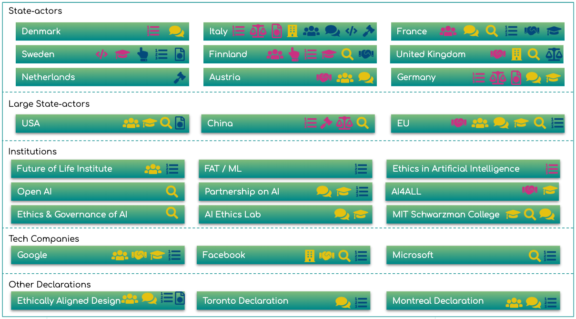 Common ground
What is AI-Ethics
The analyzed sources base their views on a set of philosophical ideas and assumptions as well as a few principals by ethics are applied to AI. While we will not focus on the philosophical base, the three basic approaches to apply ethics in AI are important to understand as they appear in most approaches:

Ethics IN design: Artificial Intelligence is more than "just another" technology. We understand that and help our partners derive conclusions from it. We educate and train them from the technical aspects to the strategic and sociopolitical elements. The best and brightest always stand on the shoulder of giants – help us teach AI to some of the most influential individuals out there.
Ethics BY design: When it comes to large scale adoption and the technological stack, AI is very much in its infancy. Therefore we are developing new AI prototypes and tools with our partners in a multitude of domains (from purely virtual e.g. data analysis, NLP, etc. to cyber-physical e.g. drones and CV in the real world, etc.). We base these developments on state-of-the-art technology of our partners (NVIDIA, Google, Cisco, IBM, Pure etc.) and are tackling everything in between – be a part of our engineering team.
Ethics FOR design: Artificial Intelligence is poised to change the business model of major companies and may disrupt whole industries. Understanding the chances, risks and values that can be achieved by using this technology is a complex task for companies and its management. We know that and help them with original content to takle this challenge – be a part of our strategy team.
It is the nature of ethics that they describe what an entity considers "correct" and "ethical" behavior. Therefore most approaches, be it from a state actor or from a company include three basic elements: A common, qualitative goal that shall be achieved, a specific set of activities and a set of expected or partially delivered results. While this structure is often the same the implementation of these three steps varies greatly. While some rely on small, top-down defined committees, others expect the broad but slow discussion and consensus. The following graphic marks the most prominent approaches
Ethics in AI: Evaluation & Law
In the following overview, you will find supplementary selected literature on ethics, standards and rules in the field of AI from Germany and the EU (as of October 2021).
The purpose of this questionnaire from the EU Commission is to assess the trustworthiness of AI systems (publication in 2019).
This questionnaire from the "DataEthics.eu" initiative based in Denmark is used to conduct a "Data Ethics Readiness Test". It helps companies to evaluate their handling of data according to ethical aspects (publication 2021).
For the ethical evaluation of AI systems in public administration, the Berlin-based non-profit organization AlgorithmWatch has developed two practical checklists.
Metadata
Details about the landscape
The landscape relies on the following color and symbol coding:

The data comes from a set of sources:
State actors
Large state actors
China: Published: July 2017
Sources: New Generation Artificial Intelligence Development Plan
URL: https://chinacopyrightandmedia.wordpress.com/2017/07/20/a-next-generation-artificial-intelligence-development-plan/
Summary: China is often presented as a negative ethical example due to the Social Credit System announced for 2020. But even there, the ethical debate is intensifying based on the topic of moral agents. At least with regard to the quantity and concreteness of information on ethical procedures, the AI development plan presented in 2017 is absolutely comparable with European strategies. As with all other strategies, ethical norms, laws and regulations are sought. Their continuous optimisation through research activities is planned until 2030. In addition, an ethical framework for human-computer collaborations and an ethical code of conduct for research and development on AI products are to be developed. Potential risks of AI should be made assessable and there should be solutions for emergency scenarios. In industry and business, China is focusing on promoting self-discipline and strengthening manager morale. The latter was not formulated in such a way in any other ethics approach examined.
USA: Published: December 2017
Sources: FUTURE of Artificial Intelligence Act
URL: https://www.congress.gov/bill/115th-congress/house-bill/4625/text
Goal: Become the international leader in military ethics and AI security
Summary: In the USA, state responsibility for AI currently lies primarily with the Pentagon. In January 2019, the United States began developing ethical principles for the military use of AI. The FUTURE of Artificial Intelligence Act, the central document of the state's AI strategy to date, recommends ethics training for AI developers, but also recommends examining whether (!) and how ethical standards can be integrated into the development and application of AI. In February 2019, the Pentagon published the Summary of the 2018 Department of Defense Artificial Intelligence Strategy. Harnessing AI to Advance our Security and Prosperity. The goal is to become the international leader in military ethics and AI security. Stated measures are consultations by experts, investment in research and development and the provision of the results to create international standards for the use of AI in the military field. The US government's commitment in the field of AI ethics, which still appears to be low in the public perception, is contrasted by a large number of non-governmental institutions with international reach.
EU: Published: April 2019
Sources: Ethics Guidelines for Trustworthy AI
URL: https://ec.europa.eu/futurium/en/ai-alliance-consultation
Goal: Development of a holistic framework for trustworthy AI systems
Summary: The guidelines of the European Commission, prepared by the High Level Expert Group (HLEG), on ethics in AI were published in April 2019. According to the report, a "trustworthy" AI should contain three components over its entire life cycle: it should be lawful, ethical and robust. The report particularly emphasizes the necessary orientation of AI towards people and their needs ("human-centric design"). Only if AI is perceived as "trustworthy", i.e. as benign and technically robust, would people want to get involved. The EU thus emphasises the necessity of ethics in AI for its dissemination and further development.
The section on ethical AI proposes ethical guidelines to be taken into account in the development process and in the use of artificially intelligent systems. They should be developed according to the principles of respect for human autonomy, prevention of harm, fairness and explicability. In addition, the development and use of AI systems should focus on diversity. This should prevent that unprotected or historically disadvantaged groups, as well as situations with asymmetries regarding power or information, are included in the system with a certain bias. In addition, risks that could potentially arise through AI systems and thus no longer benefit individuals or society should be considered and mitigated with foresight. These ethical principles are translated into concrete requirements for which technical and non-technical implementation methods are presented.
In addition, the EU envisages further concrete points to develop trustworthy AI systems: these include the promotion of research and innovation, training and education, the establishment of expert groups, as well as a transparent communication regarding capabilities and limitations of ethical AI systems.
With its report the HLEG offers the most complete framework for the implementation of ethical AI among the examined ethical procedures. It represents a process of top-down implementation (from ethical intent to concrete implementation in the situation), but which itself was created bottom-up (from the concrete human situation to ethical intent). The EU Commission intends to continue this dialectical and dialogical process on an ongoing basis. For its part, HLEG proposes to communicate its approach in training courses and educational offers for AI developers and users. In addition, the European Commission plans to play a leading role in the global debate on ethical principles and to support relevant research.
Institutions
Tech companies

Facebook: Published: May 2018
URL: https://www.forbes.com/sites/samshead/2018/05/03/facebook-reportedly-has-a-dedicated-ai-ethics-team/#5690de1d2e5c
Summary: Facebook announced at its F8 developer conference in May 2018 that it has formed its own Ethics Team. This team cooperates with development teams throughout the company and has developed the software Fairness Flow, which can detect bias of another AI. Fairness Flow has been integrated into FBLearner Flow, the software Facebook uses to train its algorithms. Scientific publications will follow. Facebook plans to further minimize the bias of its software by increasing the diversity of its workforce, for example by opening offices far from Silicon Valley. In January 2019, facebook announced that it would finance an ethics chair at the Technical University of Munich for an initial period of EUR 6.6 million over five years to develop ethical guidelines for AI, among other things.
Google: Published: 2018
Source: Responsible AI Practices
URL: https://ai.google/education/responsible-ai-practices
Summary: Google has already established an AI Ethics Board in 2014. Both members and tasks are unknown. In June 2018, Google published its Principles for Ethical AI and shortly thereafter made recommendations for Responsible AI Practices. In December 2018, Google announced a comprehensive set of measures via its blog. This includes training, an AI Ethics Speaker Series, a fairness module in the Machine Learning crash course, an interdisciplinary Responsible Innovation Team, a group of experienced senior consultants, and an advisory board of experienced executives for more complex issues involving multiple products and technologies.
Microsoft: Published: 2017
URL: https://www.microsoft.com/en-us/research/group/fate/
Summary: Microsoft founded the Fairness Accountability Transparency and Ethics group (FATE) in 2017. The group aims to develop informatics methods that are both ethical and innovative and plans to publish about them. In the same year, AI and ethics in engineering and research (AETHER) was added, a company-wide recruited advisory board of experienced executives to identify and address ethical issues at an early stage. Microsoft published its own ethical principles in January 2018 and formulated ethical guidelines for the development of AI chatbots in November of the same year. In December 2018, ethical principles for the use of face recognition were added.
Others
Ethically aligned design: Published: 2016
Source: Ethically Aligned Design: A Vision for Prioritizing Human Well-being with Autonomous and Intelligent Systems
URL: https://standards.ieee.org/industry-connections/ec/ead-v1.html
Summary: The brochure Ethically Aligned Design: A Vision for Prioritizing Human Well-being with Autonomous and Intelligent Systems is based on the input of several hundred experts from six continents. The first version was released in 2016. A second version was released in 2017 with a request for feedback from the public. The revised version is to be finalized in 2019. It focuses on five principles that provide an ethical framework for the design, development and application of AI. The brochure is published by the Ethics in Action Initiative of the American Institute of Electrical and Electronics Engineers (IEEE), the world's largest association of technical professions. Since June 2016, this association has also been working on the P7000 standard series, which develops process models for addressing ethical considerations in the conception and design of IT systems.
Toronto Declaration: Published: May 2018
Source: Toronto Declaration for Human Rights and Artificial Intelligence
URL: https://www.accessnow.org/cms/assets/uploads/2018/08/The-Toronto-Declaration_ENG_08-2018.pdf
Summary: At the RightsCon Conference in May 2018, Amnesty International and AccessNow initiated the Toronto Declaration for Human Rights and Artificial Intelligence. It calls for greater cooperation between the public and private sectors to safeguard human rights in the age of artificial intelligence and recalls, for example, the Vienna Declaration of the UN Human Rights Committee or the International Covenant on Economic, Social and Cultural Rights. Other supporters include Human Rights Watch and the Wikimedia Foundation.
Montreal Declaration: Published: Dezember 2018
Source: Montreal Declaration for Responsible Development of Artificial Intelligence
URL: https://www.montrealdeclaration-responsibleai.com/the-declaration
Summary:
The Montreal Declaration for Responsible Development of Artificial Intelligence was developed by the Université de Montréal together with the Fonds de recherche du Québec. It was presented to the Society for Arts and Technology in December 2018. It is the result of more than a year of consultation with philosophers, sociologists, lawyers and AI researchers as well as online and face-to-face surveys of the population. Its ten principles are intended to provide an ethical framework for the development and application of AI, serve as orientation in the digital transformation of society, and provide a basis for further debate. Continuous revisions of the Declaration are also planned for the future.