Contributors
Startups involved with autonomous driving
The German startup landscape of autonomous driving was created by the appliedAI Initiative, UVC Partners, and the Digital Hub Mobility and shows (as of December 2018) a total of 71 startups whose products and services enable autonomous driving directly or indirectly. There are two main categories "Autonomous Driving System" and "Ecosystem" in which the start-ups are classified.
Startups in the category "Autonomous Driving System" enable the self-driving systems to function (e.g. training data for self-driving models; sensors that enable the vehicle to "see"; maps for safe navigation of the vehicle, ADAS technologies that evolve to level 5, data exchange technologies between vehicles), whereas ecosystem startups provide the necessary customer applications or infrastructure solutions.
Based on the know-how of the creators of the graphic in the area of mobility and their daily points of contact with the startup world relevant categories for autonomous driving were defined. Startup databases such as Crunchbase, Tracxn and the UnternehmerTUM network's own sources were then searched and the startups assigned. The overview is a snapshot and tries to give the viewer an impression of the areas in which the German startup scene is already active in relation to autonomous driving and provides orientation.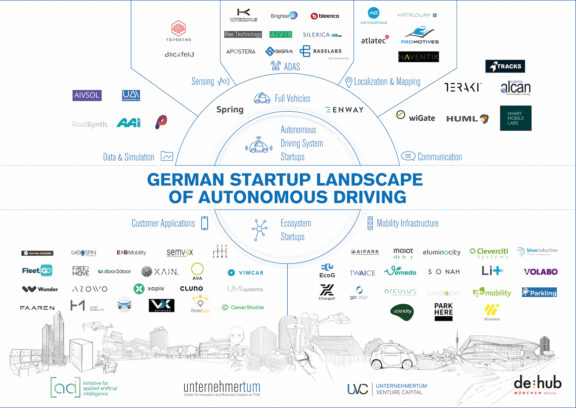 Category: Autonomous Driving System Startups

Subcategory: Data & Simulation
Subcategory: Sensing
Subcategory: Localization & Mapping
Subcategory: ADAS
Subcategory: Communication
Subcategory: Full Vehicles
Category: Ecosystem Startups
Subcategory: Customer Applications
Subcategory: Mobility Infrastructure